Bee Unique Digital Designs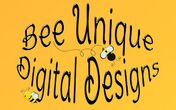 From an early age, I have been creative and have been encouraged to be creative. My parents were very supportive. I have dabbled in many media and have found a great love in digital graphics. I started with digital planning and planners. I learned to use photo editing programs to create my own images. I recently learned a new skill and bought a sublimation printer. I now am able to offer actual sublimation transfers instead of just digital downloads. I'm thrilled with the process and have graduated into wearables and home decor pieces. I love creating and I love learning - so stick around. Who knows what I'll be up to next!!
I'm so pleased to have a partner-in-crime with all my activities. My boyfriend, John, has fully supported the wearables side to our business and is skilled in the physical part of making shirts and mugs. He can work the heat press better than I can!